Our Mission
Guided by the understanding that we are all part of one human tribe, we fund and support tribe-driven initiatives. These include healthcare, education and economic capacity building projects.
Originally warriors, craftsmen and traders, the Cofan are now leading indigenous conservation efforts and care for over one million acres of Amazon rainforest in northeastern Ecuador. Numbering less than 2,000, their culture and ancestral language, A'ingae, nevertheless remain strong. However, many still live in communities devastated by decades of oil extraction and suffer high rates of cancer, miscarriages, birth defects and skin conditions. That's why the Cofan have partnered with other indigenous communities to launch a powerful initiative to develop their own solutions to the water and health crisis affecting their territory.
One of the Tribe proudly supports the Cofan and their efforts.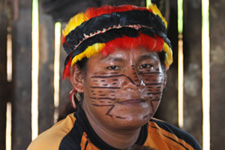 Once semi-nomadic warriors, the Achuar have lived in the Amazon Basin for thousands of years. Today they number around 6,000 and have settled in remote riverbank communities between the modern borders of Ecuador and Peru. The Achuar remain self-sufficient and autonomous, relying on their ancestral lands for their physical and cultural survival. They hunt, fish, gather and grow large gardens of plants needed for cooking, painting their bodies, medicines and sacred spiritual practices.
The Achuar have always been a visionary people, rising before dawn each day to share their dreams in a family tea ceremony and to integrate them into daily life. More recently, they have partnered with other traditionally warring communities to protect their lands from oil drilling and environmental damage, to develop sustainable economic initiatives, to establish their right to self-determination, and to ensure the long-term well being of their language, culture and traditions.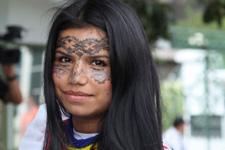 With a population of 2.5 million, the Quichua live in Ecuador, Peru and Bolivia, and are the largest indigenous group in America. They are also the only people who settled in the Andes Mountains and in the Amazon Rainforest, creating two distinct identities and cultures.
The Sarayaku Kichwa number 1,000 and live on the banks of the Bobanaza River in the southern region of the Ecuadorian Amazon. The people of Sarayaku claimed autonomy after CGC, an Argentine oil company, moved into the area and began conducting seismic surveys. Facing corporate pressure, government intimidation and military violence, the Sarayaku stood firm and remained united to peacefully protect their land, culture and newly established eco-tourism initiatives.
In July 2012 after a decade-long legal battle, the Inter-American Court of Human Rights (IACHR) ruled in favour of the Sarayaku, finding that the Ecuadorian state violated their right to be consulted, their cultural identity and their community property rights – a key victory for indigenous communities everywhere.
The people of Sarayaku practice 'Sumak Kawsay' which loosely means 'good living.' More than just 'buena vida,' it is a way of living in harmony with the self, the community and most importantly, the natural world. The Sarayaku use their resources in a way that fosters regeneration and re-growth – preserving their forest, their unique culture and their identity.
Zoe founded the One of the Tribe non-profit to raise awareness for the issues facing indigenous communities globally.
She has acted as a cultural liaison between indigenous and Western leaders since 2006 when she first began living with the Achuar Tribe in the Amazon. One of the Tribe has focused largely on supporting communities in The Amazon region which is home to the largest tropical rainforest on earth. One of the Tribe's indigenous partners are not only custodians of this species-rich region, but along with hundreds of other South American tribes, depend on the rainforest for their survival.
Decades of oil extraction, spills and billions of gallons of untreated waste continue to contaminate Amazon ecosystems, threatening the health of the rainforest and the people who live there.
One of the Tribe works with indigenous communities to help them tell their story and to launch tribe-driven initiatives that support their own visions for the future. We use film, photography, books and art to raise awareness about indigenous issues, foster environmental stewardship and corporate responsibility, and inspire people everywhere to be one of the tribe.